CBSE 12th Result 2018, CBSE Class 12 Result 2018, www.cbseresults.nic.in
CBSE Board Exam 2018
CBSE
Exam Name
Exam Dates 2018
Exam Result 2018 (Tentative)
CBSE 10th Board Exam
5 March 2018 - 4 April, 2018
May, 2018
CBSE 12th Board Exam
5 March 2018 - 13 April, 2018
May, 2018
CBSE 12th Result 2018, Class 12 Result 2018 CBSE Board
: The CBSE class 12th exams are now over except for the scheduled retest of the economics paper on 25th of April. The Central Board of Secondary Education (CBSE) started the examinations on the 5th of March 2018 and the exams ended on the 13th of April 2018. The detailed time table for the class XII boards can be found
here
. If some media reports are to be believed, the results for the class 12th boards will be declared in the month of May 2018. The ExamResults team will work round-the-clock to ensure that you have all the updates regarding the date and time of the
CBSE Class 12th Results
. Stay tuned to this
website
or download our
Android app
for timely updates. You can also log on to the official CBSE website, cbseresults.nic.in to check your results.
CBSE 12th Result 2018 - Important Dates, Facts & Figures
Name Of Examination Authority: Central Board Of Secondary Education
Name Of Exam: CBSE Class 12th Board Exam 2018
CBSE 12th Exam Dates:
5th March to 13th April 2018
CBSE 12th Result 2018:
Expected in May, 2018
Total Number Of Students: 11,86,306
Number Of Male Candidates: 6,90,407
Number Of Female Candidates: 4,95,899
Total Number Of Exam Centres: 4,138
Exam Centres Outside India: 71
This year, 28.24 lakh students appeared for the class X and XII board exams, and 11.86 lakh students appeared for the class 12th board exams alone, which were conducted across 4138 centres across the country and internationally. There were 6,90,407 male candidates sitting for the exam as compared to 4,95,899 female candidates. When the time tables for the class 12th board exams were
announced
, the examinations were to end on the 12th of April, 2018. There was also a lot of expression of anger and disappointment at the schedule due to the lack of gap days between exams. The CBSE released a revised time table which shifted one of the examination papers (Physical Education) to 13th April, 2018.
In what can only be considered unexpected and surprising, on 28th March 2018, CBSE
announced
the re-examination for two papers, the Economics paper for class XII and the Math paper for class X. This announcement came in the midst of paper leak reports. The board announced a police probe following which widespread questioning of school children, tutors, and other individuals took place.
The Central Board of Secondary Education on 30th March 2018, announced that the CBSE class 12th Economics re-exam would take place on the 25th of April, 2018. The class 12th exam is scheduled to be conducted for all students except those studying abroad.
In 2018, the board has changed some policies including allowing candidates with special needs concessions like using computers, relaxation in attendance up to 50%, and provision of a reader in case a scribe is not needed. The board also announced that students with diabetes could carry eatables to the examination venue. The board instituted an
observation system
for students to give feedback on the question papers within 24 hours of the examination. This feedback will be considered by the expert team creating the marking scheme.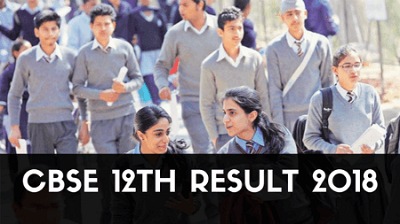 Checking the CBSE Class 12 Results for 2018
The class 12th examination results define the future educational path that students will take. The marks scored by candidates is an important deciding factor in the admission process for several prestigious institutes of higher education. The marks can also define eligibility in examinations like BITSAT and other entrance exams.
The CBSE board exam results for 2018 are expected to be out in the month of May. To check the result of 12th class 2018 CBSE board, students can follow the steps listed below:
Visit examresults.net
Click through to the CBSE Board Result section
Go to the CBSE Class 12 section
Look for the link which says CBSE 12th result 2018
Click on the link and enter the required details to get your CBSE 12th result 2018
Our recently launched
Android app
will also give you access to results, and all the information you need about exams and results-related update. There are other methods to access your results as well which are listed below:
IVR: Charged at 30p per minute per roll number, students can check their results through an IVR system
SMS: The results are also sent to students using an SMS system charged at 50p per SMS.
DigiLocker: The government-endorsed digital locker stores board exam results, which student can access using the account details which are sent to them via their registered mobile number.
Grading Scheme for CBSE
Along with the subject-wise marks, the CBSE class 12th mark sheets also have grade-wise marks. The other details included in the mark sheet are:
Roll Number
Father's/Mother's Name
Part 1 performance
Part 2 performance
Part 3 performance
Grade points (subject wise)
Final results
CBSE Class 12 Grading Scheme
Marks Obtained
Grade Alloted
Grade Point Alloted (GPA)
91-100
A1
10
81-90
A2
9
71-80
B1
8
61-70
B2
7
51-60
C1
6
41-50
C2
5
33-40
D
4
21-32
E1
-
0-20
E2
-
Want to calculate your CGPA for your class X board exams? Here's how:
Take the grade points for the five main subjects. For example, subject 1: 9, subject 2: 9, subject 3: 10, subject 4: 10, and subject 5: 8
Add these together. For example, 9+9+10+10+8
Divide the cumulative figure by 5. For example 46/5 = 9.2
Your CGPA is 9.2
To calculate your percentage, you have to multiple the same by 9.5. For example 9.2*9.5=87.4%
Class 12 CBSE Results - Statistics from 2017 and Historic Data
The CBSE results for class 12th for this year is expected to be released in May 2018. Last year the same were released toward the end of May. In this section we take a look at the statistics and data from previous years that can help us determine the result pattern for this year.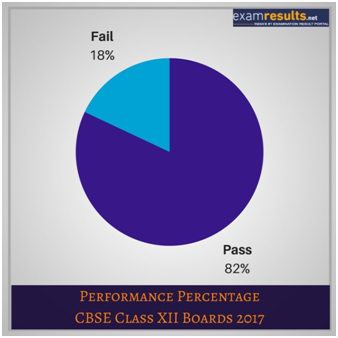 CBSE 12th Exam - Last Year Statistics
Exam Date
9 March to 29 April, 2017
Number of Exam Centres
3,503
Number of Schools
10,677
Result Date
28th May 2017
No of candidates
10,98,981
Pass %
82%
As many as 10 lakh students appeared for the CBSE class 12 boards last year. The overall pass percentage for the board exams was 82%. In the image and table given below, you can check the pass percentage for the last 3 years and the number of students who appeared for the exams.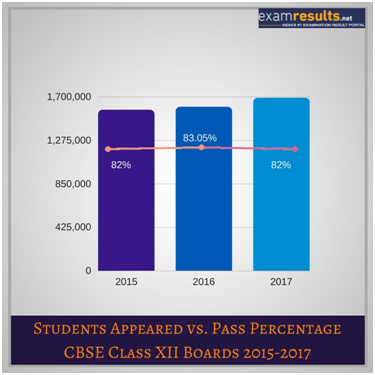 CBSE Class 12 Result - Previous Year Statistics
Year
Overall Pass %
Boys %
Girls %
No of Students
2017
82%
78%
87.5%
10,98,981
2016
83.05%
78.85%
88.58%
10,65,179
2015
82%
77.77%
87.56%
10,40,368
2014
82.66%
78.27%
88.52%
10,28,928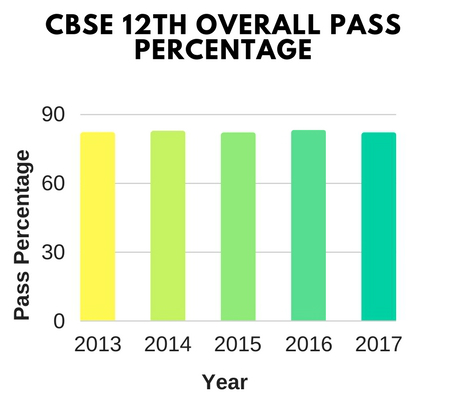 Where To Check CBSE 12th Result 2018
If you've appeared for your CBSE Class 12 exams 2018, you can check your results on the official website of CBSE, cbseresults.nic.in. You can also check your
CBSE 10th Result 2018
on this website, examresults.net. Our
android application
available on Google Play store is another means to access your results.
Use the
keyboard shortcut Ctrl + D to Bookmark this page
and never stay behind any results- and exam-related updates.
All the Best!
About CBSE - Central Board of Secondary Education
The apex board of education in India with not just a pan-India jurisdiction but also a global presence with nearly 141 affiliated schools across 21 countries, CBSE grants affiliation to schools up to higher secondary level and develops common curriculum keeping nationwide requirements in focus. You can get all the information you want about this apex board
here
. Given its present name in 1953, the Central Board of Secondary Education or CBSE was reconstituted in the year 1962 after its jurisdiction was expanded. The board is regulated by the Ministry of HRD, currently headed by Mr. Prakash Javadekar.
We wish all the students waiting for their CBSE Class 12 Exam Results 2018, Best of Luck!
---