Get MBOSE HSSLC (12th) Results, Time Table, News and Updates
MBOSE Class 12(ARTS) Result Updates
WILL BE DECLARED HERE
---
Get Meghalaya Board Class 12 Results 2019 via SMS
Meghalaya Class 12 Results - HSSLC Science Examination 2019
SMS - MBOSE12S<space>ROLLNUMBER - Send it to 56263

Meghalaya Class 12 Results - HSSLC Commerce Examination 2019
SMS - MBOSE12C<space>ROLLNUMBER - Send it to 56263

Meghalaya Class 12 Results - HSSLC Arts Examination 2019
SMS - MBOSE12A<space>ROLLNUMBER - Send it to 56263

MBOSE HSSLC Exam 2019
Meghalaya
Exam Name
Exam Dates 2019
Exam Result Date 2019
MBOSE HSSLC Class 12
1 March - 25 March
Meghalaya Board HSSLC Result 2019
September 20, 2019:
The Meghalaya Board of School Education has released the Meghalaya HSSLC Timetable 2019. According to the Meghalaya MBOSE 12th Time Table 2019, the Meghalaya Board 12th exams starting from March , 2019 and will end on March 25, 2019, with Physical Education paper. All MBOSE HSSLC exams will begin from 10 AM and end at 1 PM. All students appearing for MBOSE HSSLC exams will be getting 15 minutes time to read the question paper before they start writing. Watch this space for more news about the Meghalaya class 12 exams 2019.
Click here to check Time Table
.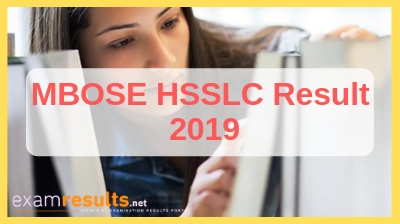 How to Check Meghalaya HSSLC Result 2019
To check the
Meghalaya Board exam results 2019
, students can visit the www.examresults.net website. The basic steps to check
Meghalaya Board HSSLC result 2019
are -
Log onto the www.examresults.net website.
Type the desired state name, in this case -/meghalaya/
Look for the link which says Meghalaya Board Meghalaya Board HSSLC results
Click on the link and fill up all the details to get your Meghalaya Board 12th class result 2019
MBOSE HSSLC Exam - Last Year Statistics
MBOSE HSSLC Exam - Current Year Statistics
Exam Date
6 March - 29 March, 2018
Result Date
10 May at 10AM (Science, Commerce & Vocational) 25th May for Arts
No of candidates
29840
Male Candidates
11470
Female Candidates
15531
Pass %
74.58 (Science)79.84 (Commerce) 81.62 (Arts)
Topper
Rishav Das 480 marks (Science)
Chongdeinem Guite 443 marks (Commerce) Lily Kharthangmaw-440 marks (Arts)
MBOSE HSSLC Exam – Pass Percentage Pattern
MBOSE HSSLC Exam- Pass Percentage Pattern
Year
Overall Pass %
Boys %
Girls %
No. of Students Appeared
2018
81.62 (Arts),74.58 (Science),79.84 (Commerce)
Science-(Boys): 78.27% Commerce-(Boys):78.27% Arts (boys)-77.01%
Science-(Girls): 75.43% Commerce-(Girls): 88.85% Arts (girls)- 85.21%
29,840
2017
76.76 (Science)
71.87 (Commerce)75.38 (Arts)
NA
NA
27,001
Where to Check Meghalaya MBOSE Exam Result 2019?
You can check your MBOSE HSSLC results 2019 from www.examresults.net website along with the official MBOSE website- www.mbose.in
Bookmark this page (CTRL+D)
for future reference.
All the best!
About Meghalaya Board of School Education (MBOSE)
The Meghalaya Board of School Education was setup as per the 1973 MBOSE Act. The board controls, regulates and look after the matters associated with school education in the state of Meghalaya. It also conducts examinations for secondary school leaving certificate for students. The Meghalaya education board also provides regular as well as distance education to the students from class 8th to 12th for the schools that are affiliated to MBOSE.
---