Get Odisha Class 12th Results ,CHSE Odisha Results 2018, Odisha Plus Two (+2) Result 2018 news and information here.
CHSE ORISSA PLUS TWO Result 2018
Removed from here!
Get CHSE Class 12 2018
Result & Updates.
Get Your
» Board Results
» Result Dates
» Examination
Notifications
» Latest News

REGISTER NOW!
Get CHSE Class 12 2018
Result & Updates.
REGISTER NOW!
Get Odisha Class 12 Results - CHSE Orissa 12th Results 2018
SMS - RESULT<space>OR12<space>ROLLNO - Send it to 56263


Odisha Board CHSE Result and Exam Date Information
Odisha Board Results 2018
Orissa
Exam Name
Exam Dates 2018
Exam Result 2018
CHSE / 12
6-28 March, 2018

19th May at 11 AM, 2018 for Science stream Arts and Commerce Results on 9 June, 2018
---
Odisha Board CHSE 12th Result 2018
August 22, 2018: The
Council of Higher Secondary Education (CHSE)
, Odisha have declared the
Odisha Class 12 Science results 2018
on 19th May at 11 AM 2018, Arts and Commerce Results were declared on 09 June, 2018. The
Odisha 12th class board examinations
are held by the state board during the month of March. For the academic year 2017-2018, the CHSE Class 12th theory exams took place from 6 March to 28 March. The practical exams were held in the month of January. This year, a total of 365000 students from 1,504 colleges in Science, Arts, Commerce and Vocational education streams had appeared for Plus-II annual examination. The examination was held in as many as 1,106 centres across the state. 76.98% is the overall pass percentage for
Odisha CHSE Science results
. 96, 41 students scored above 90% marks (28 male and 13 female). Nayagarh district has recorded the highest pass percentage of 92.23. Gajapati district has recorded the least pass percentage of 43%.Official documents supporting the +2 result will be available from May 25, 2018. Rechecking for +2 Science result will be from June 4. None of the colleges recorded zero pass percentage this year. In Arts stream total 2,30,206 students appeared out of which 1,58,328 passed. The overall pass percentage is 68.79% with boys scoring 60.88% overall and girls scoring 74.39% overall. In 1st division total passed is 19,953 and in 2nd division 26,076 students passed. Highest scoring district for Arts stream is Puri with 79.87% and lowest is Navrangpur with 47.58%.
For Commerce stream, total appeared is 26,984 and passed is 20,216. The overall pass percentage is 74.9%. The overall pass percentage for boys is 73.11% and girls are 78.48%. In 1st div. 4006 students passed and in 2nd div. 3734 passed. District wise topper is Nayagarg with 95.59% pass percentage and lowest is Deogarh with 45.07% pass percentage
ओडिशा बोर्ड कक्षा 12 सीएचएसई परीक्षा का परिणाम 2018: Latest Update
ओडिशा बोर्ड सीएचएसई परीक्षा हर साल कक्षा 12 परीक्षा का आयोजन करता है। इस साल, सीएचएसई बोर्ड ओडिशा परीक्षा 2018, 6 मार्च 2018 से 28 मार्च तक की गई। मीडिया के अनुसार सीएचएसई बोर्ड ओडिशा कक्षा 12 परीक्षा के परिणाम 9 जून को घोषित किए जाएंगे। आते रहें, हम आपको ओडिशा बोर्ड कक्षा 12 परीक्षा के परिणाम पर अपडेट करेंगे। अपने ओडिशा बोर्ड कक्षा 12 सीएचएसई परीक्षा के परिणाम की जाँच करें, इन चरणों से:
www.examresults.net पर लॉगइन करें।
इच्छित बोर्ड बटन की तलाश करें, उदाहरण के लिए - www.examresults.net/orissa/
ओडिशा बोर्ड कक्षा 12 परीक्षा के परिणाम Class 12 Results लिंक पर क्लिक करें।
अपना रोल नंबर और दूसरी जानकारी भरें।
आपका रिजल्ट आपके सामने होगा।
अपने सीएचएसई ओडिशा बोर्ड कक्षा 12 परीक्षा के परिणाम 2018 का प्रिंटआउट लें।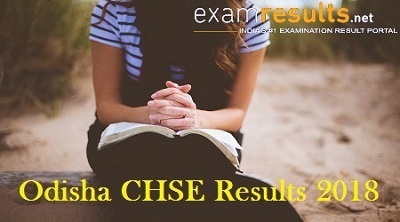 How to Check CHSE Odisha Class 12th Result
To check the
CHSE Odisha Exam results 2018
, students can visit the
www.examresults.net
website. The basic steps to check
CHSE class 12 result 2018
are -
Log onto the examresults.net website.
Type the desired state name, in this case –examresults.net/orissa
Look for the link which says CHSE Odisha Exam Results 2018
Click on the link and fill up all the details to get your Orissa Class 12 Exams Results 2018
CHSE Odisha Exam Current Year Statistics
CHSE Odisha Board Results-Current Year Statistics
Exam Date
6-28 March, 2018
Exam Centres
1106
Result Date
19th May at 11 AM for Science stream
9 June for Arts/Commerce
No of candidates
365000
Pass %
Science-76.98%Arts-68.79 Commerce-74.9
CHSE Odisha Exam Previous Years Statistics
In 2016, the overall pass percentage for the Odisha Board class 12 exams was 92.63% including Arts, Science and Commerce streams. In 2017, the overall pass percentage for Science stream was 81.11% for Arts, it was 71.175 and for Commerce, it was 71.43%. It is evident from the above stats that the students scored well in Science stream followed by Arts and Commerce. Around 3,80,707 students appeared for the CHSE Odisha Plus II exams last year out of which the girls outshone the boys by scoring 82.36% overall against 80.29%
CHSE Odisha Board Results-Previous Year Statistics
Year
Overall Pass %
Boys %
Girls %
No. of students
2018
Science-76.98% Arts-68.79Commerce-74.9
75.69 for Science60.88 (Arts)73.11 (Commerce)
78.88 (Science)74.38 (Arts)74.48 (Commerce)
3,65,000
2017
Arts-71.17
Commerce-71.43
Science-81.11
80.29
82.36
3,80,707
2016
92.63
NA
NA
3,73,000
Where to Check Orissa Class 12 Result 2018?
You can check your
CHSE 12 Result 2018
from
www.examresults.net
website along with the official
Orissa Board website
-www.chseodisha.nic.in
Bookmark this page (CTRL+D) for future reference. All the best!
About Council of Higher Secondary Education (CHSE), Odisha
The
Council of Higher Secondary Education, Odisha
was established in accordance with the Odisha Higher Secondary Education Act 1982 to regulate, control and develop
Higher Secondary Education in the State of Orissa
. The administrative function of the Council commenced from 7th September 1982 in Bhubaneswar. The Chairman is the Executive Head of the Council and the Secretary is the Head of the Office. There are altogether 27 Sections, 24 in the Main Office and 03 in Zonal offices of the Council. The functions of 9 Sections of the Main Office are broadly classified under these categories : Administrative, Academic, Finance & Examination.
---