Maharashtra Board HSC Results 2018, Maharashtra Class 12th Result 2018, MSBSHSE Result 2018 May 2018 – 21st Feb – 20th March 2018
---
Maharashtra Board Results 2018 - Maharashtra HSC Result - Maharashtra 12th Result 2018 - Date, Information & More..
: The
Maharashtra HSC Results 2018
will be declared in
May, 2018
. The
Maharashtra Board i.e. MSBSHSE
officially announces the
Maharashtra HSC Results 2018
or
Maharashtra board 12th results 2018
on the website
www.MaharashtraEducation.com
as well as on
www.examresults.net/maharashtra
. Students can also download our
Android app
, ExamResults, to check their result and stay updated about all exams- and results-related information.
Maharashtra HSC students waiting for their Maharashtra HSC Result 2018 are advised to stay tuned only to official sources and authorities considered credible by the board for any updates on the Maharashtra HSC Result Date 2018 and not believe any rumours that are being spread on social media tools like Whatsapp and Facebook about HSC results 2018. www.examresults.net is the official results partner of the Maharashtra Board and as per updates from the MSBSHSE Pune officials, the date for announcing the Maharashtra HSC Result 2018 has still not be decided on. Sources do suggest that the 12th Maharashtra Board Result 2018 will be declared in May, 2018.
While there has been no formal notification about Maharashtra Board HSC Result 2018, the results can be expected between the last week of May 2018 and the first week of June 2018. On an average it takes about 45-60 days to publish the results and this may be the case with Maharashtra Board Results 2018 as well.
Registration for Maharashtra HSC 12th Boards 2018 and 2017 HSC Board Results Statistics
The Maharashtra 12th Results 2017 were announced for over 15.05 lakh students and the results helped decide in which stream a student would pursue his / her higher education at the UG level. Out of these 15,05,000 HSC students, around 5.59 lakh students belonged to the Science stream, 5.09 lakh were from the Arts stream, 3.73 lakh appeared for the Commerce stream exams while the remaining 62,948 students appeared for the minimum competency vocational course (MCVC). The Maharashtra HSC Result 2017 for all these students were announced on 30th May, 2017. In 2018, too, the Maharashtra HSC results 2018 are expected in May 2018.
The MSBHSE Pune started the online registrations for HSC examination 2018 on Dec 2nd 2017 and closed the date for applications on December 11th 2018. Students could also pay a late fee and register for the board exams till December 16th 2018.
There are a total of 9 divisions in Maharashtra for which the Maharashtra HSC Result 2018 will be announced in the last week of May or first week of June, 2018 – Pune, Nagpur, Aurangabad, Mumbai, Kolhapur, Amravati, Nashik, Latur and Konkan.
The Higher Secondary Certificate Examination (HSC) 2018 is being conducted by the Maharashtra State Board of Secondary and Higher Secondary Education, Pune (MSBSHSE) from 21 February, 2018 to 20 March, 2018 through its nine Divisional Boards, which are primarily located at Pune, Mumbai, Nasik, Aurangabad, Kolhapur, Latur, Nagpur, Amravati and Ratnagiri.
In 2017, 9,143 junior colleges across Maharashtra had participated in the Maharashtra HSC exams 2017 that were conducted in 2,710 exam centres spread throughout the state. Out of the 15.05 lakh students, 8,48,000 were boys while 6,56,000 were. The number of students appearing for 2018 are expected to be around the same.
Previous Years' Maharashtra HSC Result Details
Last year, the 12th Results Maharashtra 2017 exams were declared on 30th May. According to the board, during the academic year 2016-2017, around 15.05 lakh students appeared for Maharashtra HSC Board exam 2017. The Maharashtra HSC Board passing percentage was 89.50 %. The Maharashtra HSC board result 2018 is also expected to be at par or better than last year's Maharashtra HSC board result.
Students are requested to keep visiting this website for all details on the Maharashtra Board Results 2018. We wish all students across Maharashtra, Best of Luck for their Maharashtra Class 12th Results 2018 and Exams 2018.
Previous years' Maharashtra HSC Result
| | | | | |
| --- | --- | --- | --- | --- |
| Year | Overall Pass % | Pass % for Boys | Pass % for Girls | No. of students who have appeared for the exam |
| 2011 | 70.69 | 66.39 | 76.30 | 11,59,369 |
| 2012 | 74.46 | 70.32 | 79.66 | 11,43,135 |
| 2013 | 79.95 | 76.62 | 84.06 | 10,88,653 |
| 2014 | 90.03 | 87.23 | 93.50 | 11,98,859 |
| 2015 | 91.26 | 88.20 | 94.29 | 12,37,000 |
| 2016 | 86.60 | 83.46 | 90.50 | 13,19,754 |
| 2017 | 89.50 | 86.65 | 93.05 | 14,29,478 |
How to check the Maharashtra Class 12 results 2018
To check the Maharashtra HSC 2018, students can visit the examresults website. The basic steps to check Mah Board Class XII Result 2018 are:
Get your HSC Maharashtra Result on www.maharashtraeducation.com
Alternatively, log onto examresults.net website.
Go to your state section i.e. http://www.examresults.net/maharashtra/.
Type the desired state name, for example, http://www.examresults.net/maharashtra/.
Look for the link which says "HSC Results Click Here"
Click on the link and fill up all the details to get your
Maharashtra HSC result 2018
.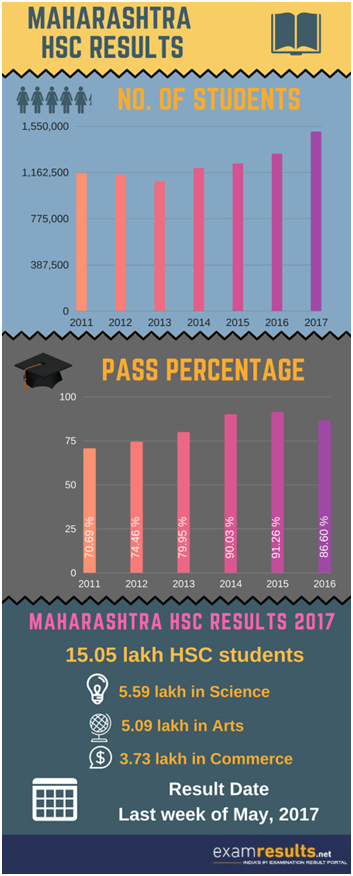 To share this infographic about the Previous Years' Maharashtra HSC Results use the below code:
<iframe src="http://www.examresults.net/maharashtra/images/Maharashtra HSC 2017 Results_450.png" height="1200" width="800" overflow="hidden"></iframe>
Here's a list of websites where the Maharashtra HSC result 2018 will be available for download online:
For Maharashtra SSC Board Result 2018,
Click Here
.
Best wishes to all students awaiting their
MSBSHSE result 2018
and those appearing for the
MSBHSE HSC Exams 2018
! Remember, your Maharashtra HSC result is not a measure of your intelligence or capabilities. In case your
Maharashtra HSC result 2018
is not good, don't worry! There are many higher education & career options in store for you.
Even if you score low marks in
MSBSHSE result 2018
, read this article;
Career Options After Scoring Low Percentage In 12th
; to browse through your options.