Maharashtra SSC Result 2019, Maharashtra Class 10th Result 2019, MSBSHSE 10th Maharashtra Board Result 2019
Maharashtra Class 10th Result Updates
WILL BE DECLARED HERE
Maharashtra Board Results 2019 - Maharashtra SSC Result - Date, Information & More..
September 20, 2019:
The SSC Maharashtra Board Result will be declared in June 2019 by MSBSHSE Maharashtra board. The Maharashtra Board SSC results 2019 will be available on the websites,
www.maharashtraeducation.com
and
www.examresults.net/maharashtra
. Last year, in 2018, MSBSHSE processed the results of a total of 17,51,353 students out of which 15,65,884 students were declared "passed". The overall passing percentage was 89.41.
Last year, the Maharashtra SSC Results were announced on 8th June 2018 and the Maharashtra Board i.e. MSBSHSE officially announced the Maharashtra board SSC result 2018 on this website i.e. www.MaharashtraEducation.com. This year's Maharashtra SSC exam result date 2019 is expected to be in June 2019.
The Maharashtra Class 10th Results or Maharashtra board 10 Result are released by MSBSHSE for over 17 lakh students and it decides in which stream a student will pursue his / her Class 12 (HSC) education. The 10th Maharashtra board result 2019 will be announced this year for nearly the same number of students as last year, i.e. 17 lakh students across Maharashtra and the Maharashtra board 10th results will be officially announced on this website.
The Maharashtra SSC Result 2019 will be announced in June 2019.
MSBSHSE SSC Result 2019 - Important Dates, Facts & Figures
Name Of Examination Authority: Maharashtra State Board of Secondary & Higher Secondary Education
Name Of Exam: Maharashtra SSC Board Exams 2019
MSBSHSE 10th Exam Dates:
1st March to 22th March 2019
MSBSHSE SSC Result 2019:
June, 2019 (Tentative)
How to check the Maharashtra Class 10 results 2019 online
To check the Maharashtra SSC 2019, students can visit the
examresults
website. The basic steps to check
Mah Board Class X Result 2019
online are:
Get your results online on www.maharashtraeducation.com
Alternatively, log onto examresults.net website.
Type the desired state name, for example, /maharashtra/.
Look for the link which says "SSC Results Click Here"
Click on the link and fill up all the details to get your Maharashtra SSC result 2019.
Division-wise SSC students Passing Percentage
Here is the number of students who appeared for the Maharashtra SSC exam 2018 across each of its 9 divisions last year. This number will be updated once the Maharashtra SSC Class 10 2019 exams take place.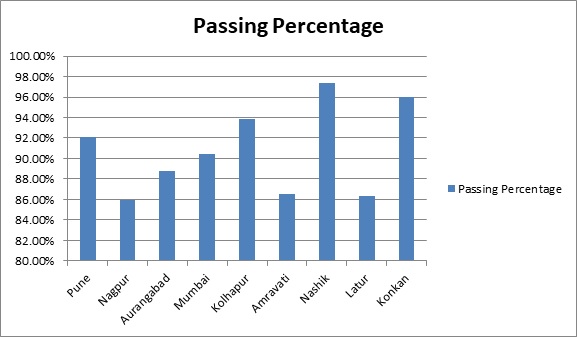 Students can also check the Maharashtra HSC results 2019 here. and download our Android app via Google Play store.
Maharashtra Board SSC Result 2019 Date
As per the official Maharashtra board SSC timetable 2019, this year the Maharashtra class 10th exams will start from 1 March and will end on 22 March, 2019 for more than 16 lakh students. The exact Maharashtra SSC result date 2019 will be updated on this page, soon. The Maharashtra Board SSC Result 2019 date has not been fixed yet but will be made available in May or June, 2019 according to some reports. All Maharashtra SSC students can keep visiting this page to get the exact date for the announcement of Maharashtra SSC Result 2019 by the MSBSHSE since www.examresults.net is an official online partner website with the Maharashtra board.
Which Website to Check for Maharashtra SSC Result 2019
Although the Maharashtra SSC Board Result 2019 is declared every year on the MSBSHSE board's official website (www.mahresult.nic.in), the trend for the past few years on the D-Day has been that the website crashes when a huge amount of traffic lands there at the same time! In 2017, there were 17 lakh+ students who visited the official website to check their MSBSHSE result and in 2016 more than 16 lakh students landed on the website to get their Maharashtra SSC Result. This year, too, with a huge number of students sitting for their SSC boards and waiting for their Maharashtra SSC Result 2019, there is quite a good chance that the website might be unavailable for quite some time. This is where official partner websites like
www.maharashtraeducation.com
and
www.examresults.net/maharashtra
are useful. On the result day, SSC students can directly go to www.maharashtraeducation.com to check their Maharashtra State SSC Results without any technical problems or delay. Students can also
download
the ExamResults application check their results.
Maharashtra SSC Result Details 2019- Last Year Statistics
Last year, the MSBSHSE SSC exams were held in the month of March 2018, for which 17,51,353 students (fresh + repeater) had registered across Maharashtra. Out of these 9,73,000 were boys and 7,78,353 were girls who appeared at 4000+ exam centres spread across the state. Last year, the SSC Maharashtra result was declared on 8 June, 2018 and was available on websites like www.maharashtraeducation.com, www.examresults.net/maharashtra and www.mahresult.nic.in from 1 PM onwards.
The Maharashtra State Board of Secondary and Higher Secondary Education (MSBSHE) conducts the SSC exam for Class 10th every year, through its nine Divisional Boards, which are primarily located at Pune, Mumbai, Nasik, Aurangabad, Kolhapur,Nagpur, Latur, Amravati and Ratnagiri.
The students are requested to keep visiting this website for all details on the Maharashtra Board Results 2019. We wish the best for all students across Maharashtra for their Maharashtra State Board 10th Result.
Previous years' Maharashtra SSC Results
| | | | | | |
| --- | --- | --- | --- | --- | --- |
| Year | Overall Pass % | Boys % | Girls % | No. of students who registered | No. of students who have appeared |
| 2018 | 89.41 | 87.27 | 91.97 | 16,28,613 | 17,51,353 |
| 2017 | 88.74 % | 86.51% | 91.46% | 17,66, 098 | 16,89,239 |
| 2016 | 89.56 | 87.98 | 91.41 | 16,07,411 | 16,01,406 |
| 2015 | 91.46 | 90.18 | 92.94 | 15,77,303 | 15,72,268 |
| 2014 | 88.32 | 86.47 | 90.55 | 15,55,984 | 15,49,784 |