Get Karnataka SSLC Results 2019, KSEEB SSLC 10th Result 2019 Date, News & Updates
KA Class 10th SSLC Result Updates
WILL BE DECLARED HERE
Get Karnataka SSLC Results 2019 via SMS

To check KSEEB Class 10th 2019 result:
SMS - KSEEB10<space>ROLLNUMBER - Send it to 56263

KSEEB SSLC Results and Exam Dates 2019
Karnataka Board SSLC Exams & Result Date 2019
State
Exam Name
Exam Dates
Exam Result Date
Karnataka
SSLC
21 March-4 April, 2019
---
Karnataka SSLC RESULTS 2019
September 27, 2019:
KAR SSLC Result 2019 - The Karnataka Secondary Education Examination Board (KSEEB) which conducts the Karnataka SSLC (Class 10) Examination and SSLC result Karnataka 2019 will be announced here soon. According to the Karnataka SSLC Time table 2019, the exams will be conducted from 21 March - 4 April, 2019. The Karnataka SSLC exam timings and marks will vary for different subjects and is mentioned in details in the following SSLC Karnataka Time Table. This year, the Karnataka Secondary Education and Examination Board (KSEEB) has switched to digital mode from its manual process of updating student details. With the SSLC exams starting next month, the State board schools across the state, are now updating student information onto the student tracking system (STS), implemented by the Sarva Shiksha Abhiyan Karnataka (SSA Karnataka) to record details of over 1 crore children across the state.
The total time duration mentioned for every subject also includes 15 minutes to read the question paper. You can also check the Karnataka SSLC time¬table 2019 on this page. Keep checking back for more updates on Karnataka SSLC (Class 10) Examination 2019. The Karnataka SSLC Results 2019 will also be announced on this website.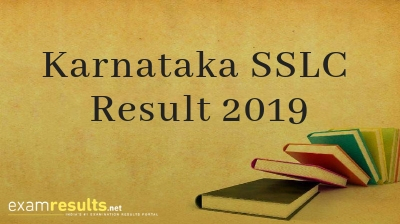 How to Check Karnataka SSLC Class 10th Result 2019
To check the Karnataka SSLC results, students can visit the www.examresults.net website. The basic steps to check Karnataka SSLC exam results are -
Log onto the www.examresults.net website.
Type the desired state name, in this case -/karnataka/
Look for the link which says Karnataka SSLC Results
Click on the link and fill up all the details to get your KSEEB 10th examinations.
Karnataka SSLC 10th Result - Last Year Statistics
Exam Date
23 March-12 April, 2018
Exam Centres
225
Result Date
7 May, 2018
No of candidates
8,38,088
Male Candidates
NA
Female Candidates
NA
Pass %
71.93 %
Topper
Yashas MS from Sadvidya High School (625/625)
Sudarshan KS from Holy Child English School (625/625)

KSEEB SSLC Exam - Pass Percentage Pattern
The toppers have secured 100% marks in the Karnataka SSLC exam 2018. As per the table given below, it can be seen that the overall pass percentage for
Karnataka SSLC
exam was 79.16% in 2016. But, in 2017, it lowered down to 67.87%. This year, the results saw a rise of 4% and the overall pass percentage is 71.93%.
Udupi district had the highest passing percentage in the state with 88.18%. The district has maintained its first position from the year 2017. The rural passing percentage is 74% while the urban passing percentage is 69.38%.
Karnataka Board SSLC Pass Percentage Pattern
Year
Overall Pass %
Boys %
Girls %
No. of Students
2018
71.93
66.56
78.01
8,38,088
2017
67.87
74.08
62.42
8,77,174
2016
79.16
80.59
70.29
8,56,366
Where can you Check your SSLC Result Karnataka 2019
You can check your
KSEEB SSLC results 2019
from www.examresults.net website along with the official KSEEB website- kseeb.kar.nic.in
Bookmark this page (CTRL+D) for future reference. All the best!
About Karnataka Secondary Education Examination Board (KSEEB)
Karnataka Secondary Education Examination
Board which came into existence in the year 1966 has been conducting SSLC, PUC and other examinations. The board regulates and supervises the system of
Secondary education in Karnataka State
. It executes and governs various activities that include devising of courses of study, prescribing syllabus, conducting examinations, granting recognitions to schools and, providing direction, support and leadership for all
secondary educational institutions
under its jurisdiction.
---