BSE Odisha Class 10th HSC & 12th CHSE Results 2018, Odisha University Results 2018
BSE Results Click Here
CHSE Results Click Here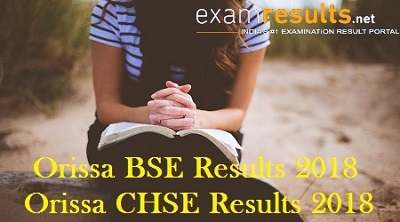 ---
Get Odisha Class 10 Results / BSE Orissa 10th Results 2018 on Mobile - SMS
SMS - RESULT<space>OR10<space>ROLL NUMBER - Send it to 56263

Odisha Plus Two Results / Orissa Class 12 Results 2018 on Mobile - SMS
SMS - RESULT<space>OR12<space>ROLL NUMBER - Send it to 56263

---
Orissa Board Class BSE 10th & CHSE 12th Result 2018 Board of Secondary Education, Odisha
February 21, 2018: The Board of Secondary Education (BSE), Orissa, which conducts the Class 10 examinations every year, is conducting the exam for class 10 this year, from 23 February to 8 March, 2018. Students are advised to keep checking this website for more details on Odisha
Class 10 Board Results 2018
and
Odisha class 10 Time Table 2018
.
The Council of Higher Secondary Education (CHSE), Odisha usually conducts the class 12th exams during the month of March. The Odisha Board results for class 12 are then declared here. The Odisha Board class 12 exam will begin from 6 March, 2018. The practical exams will be scheduled expectedly in the month of January, from 18 January, 2018 till 25 January, 2018. Students are advised to keep checking the website for further details on
12th CHSE result Odisha
and
Odisha class 12 Time Table 2018
.
How to Check Board of Secondary Education, BSE Results 2018
To check the CHSE Results 2018, students can visit the www.examresults.net website. The basic steps to check Odisha BSE Class 10 Results 2018 & Odisha CHSE Class 12 Results are -
Log onto the www.examresults.net website.
Type the desired state name, in this case -http://www.examresults.net/orissa/
Look for the link which says Odissa BSE Results/Odisha CHSE Results
Click on the link and fill up all the details to get your Odisha Board Results 2018
Orissa Exam Result Declaration Pattern
State
Year
10th
12th
Orissa
2017
26 April
12 May for Science Stream 31 may for Arts and Commerce Streams
2016
27 April
13 May for Science Stream 30 May for Arts and Commerce Streams
Orissa BSE & CHSE Board Pass Percentage
Given below is the detailed result statistics of CHSE Odisha Result 2018 for last two years in tabular form.
State
Year
10th
12th
Orissa
2017
96.24
94.50
2016
93.65
92.63
Where Else To Check Orissa Board BSE & CHSE Results 2018?
You can check your Odisha BSE Results 2018 and Odisha CHSE Results 2018 from www.examresults.net website along with the official website of Odisha Board for BSE exam- bseodisha.nic.in and for CHSE exam-
Bookmark this page (CTRL+D) for future reference. All the best!
!
About Board of Secondary Education, Odisha
The Board of Secondary Education (BSE), Odisha is the Board of education for all the private and public schools under the government of Odisha. The Board was formed under the Odisha Education Act 1953. The board controls and maintains all the secondary education related affairs in Odisha. Under this board various courses are offered to students to prepare them for university level education.
---