BSE Odisha Matric Result 2018, BSE Odisha Result 2018, Odisha Class 10th Results
BSE ODISHA MATRIC RESULT 2018
Removed from here!
Get Odisha Class 10 Results - BSE Orissa 10th Results 2018
SMS - RESULT<space>OR10<space>ROLLNO - Send it to 56263
Odisha Board HSC Result & Exam Date Information
Orissa
Exam Name
Exam Dates 2018
Exam Result 2018
BSE/10th
23 February- 8 March
---
Board of Secondary Education Odisha, BSE Results 2018
June 04, 2018:
Odisha Class 10th Results were declared on 7th May 2018 at 9 AM
.The Odisha Board class 10 exams took place from 23 February, 2018 to 8 March, 2018. As many as 5,90,367 students had appeared the examinations in 2818 exam centres.. Despite of tight security measures the examination this year was surrounded by controversies of cheating and paper leak. The overall pass percentage recorded in
.BSE Odisha exam
. this year is 76.23% with 77.35% being the overall pass percentage for regular candidates. 2,16,305 boys and 2,22,043 girls have cleared the exams successfully. In total, 4,38,348 students have passed and 1,36,717 have failed. 429 students have scored a perfect 100% result and 0.30% scored above 90%.The BSE Orissa Exam 2018 had engaged 13,280 teachers for the evaluation of the answer sheets in 57 centres. The evaluation process which started on March 20th has ended successfully on April 4th.
Keep visiting this website for more details on
Odisha BSE Odisha result 2018
.
ओडिशा बोर्ड कक्षा 10 बीएसई परीक्षा का परिणाम 2018: Latest Update
ओडिशा बोर्ड बीएसई परीक्षा हर साल कक्षा 10 परीक्षा का आयोजन करता है। इस साल, बीएसई ओडिशा कक्षा 10 परीक्षा परीक्षा 2018 5 मार्च 2018 से 31 मार्च तक की गई। ओडिशा बीएसई परिणाम 2018 7 मई को घोषित किया गया, आते रहें, हम आपको ओडिशा बोर्ड कक्षा 10 बीएसई परीक्षा का परिणाम पर अपडेट करेंगे। अपने ओडिशा बोर्ड कक्षा 10 बीएसई परीक्षा के परिणाम का जाँच करें, इन चरणों से:
www.examresults.net पर लॉगइन करें।
इच्छित बोर्ड बटन की तलाश करें, उदाहरण के लिए - www.examresults.net/orissa/
ओडिशा बोर्ड कक्षा 10 बीएसई परीक्षा का परिणाम Class 10 Results लिंक पर क्लिक करें।
अपना रोल नंबर और दूसरी जानकारी भरें।
आपका रिजल्ट आपके सामने होगा।
अपने ओडिशा बोर्ड कक्षा 10 बीएसई परीक्षा का परिणाम 2018 का प्रिंटआउट लें।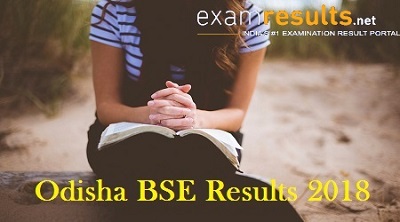 How to Check Odisha 10th Result 2018?
To check the
Odisha BSE Results
, students can visit the www.examresults.net website. The basic steps to check Odisha 10th Exam Results are -
Log onto the examresults.net website.
Type the desired state name, in this case -examresults.net/orissa
Look for the link which says Odisha BSE Results
Click on the link and fill up all the details to get your Orissa 10th examinations.
Orissa 10th Exams Current Year Statistics
BSE Odisha Board Results -Current year Statistics
Exam Date
23 February- 8 March
Exam Centres
2818
Result Date
7 May at 9 AM
No of candidates
5,90,367
Male Candidates
2,16,305
Female Candidates
2,22,043
Pass %
76.23%
Topper
429 students scored 100% marks
Orissa 10th Exam Previous Years Statistics
In 2016, the overall pass percentage as per the Odisha Board class 10 results was 88% In 2017, the overall pass percentage was 85.28%. Girls scored 86.69% while boys scored 86.04%. In both the years, girls outperformed boys in the
Odisha Board Matric examinations
.
BSE Odisha Board Results - Previous Years Statistics
Year
Overall Pass %
Boys %
Girls %
No. of students
2018
76.23
49.34
50.66
590367
2017
85.28
86.04
86.69
6,08, 690
2016
88%
NA
NA
6,01,348
Where to Check Odisha Board Result 2018?
You can check your Odisha
BSE Results 2018
from www.examresults.net website along with the official
Odisha website
- bseodisha.nic.in
Bookmark this page (CTRL+D) for future reference. All the best!
About Board of Secondary Education Examination (Odisha)
The
Board of Secondary Education (BSE), Odisha
is the Board of education for all the private and public schools under the government of Odisha. The Board was formed under the Odisha Education Act 1953. The board controls and maintains all the secondary education related affairs in Odisha. Under this board various courses are offered to students to prepare them for university level education.
---