Time Table of Telangana Secondary School Certificate Public Examination, 2019
Telangana, one of the newly formed states of India has a strong education board facilitating students from cities as well as rural regions to pursue schooling as well as graduation. The highest exam in Tealngana state is that of 10th class. Also known as SSC- Secondary School Certificate, this exam is conducted on the state level, just like most of the state boards in the country.
Every year, the TS SSC time table is released by Board of Secondary Education located in Hyderabad, the capital of the state. Telangana 10th class time table includes exam details for SSC, OSSC and vocational candidates.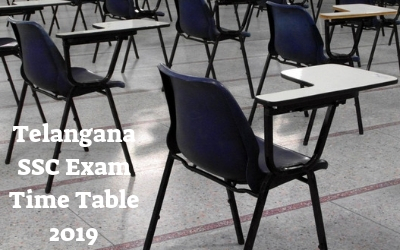 Significance of Telangana SSC Time Table
It is extremely crucial for students to plan their last-minute studies for an important exam like SSC. Knowing the timetable in advance and from trustworthy resources makes it easy for students and educator to plan their mock-tests and other preparations.
Like every year, examresults.net brings to you the updated TS SSC time table 2019.
This timetable is directly sourced from the official press release signed by the director of Board of Secondary Education, Telangana. As per the TS SSC exam time table 2019, the exam starts on 16th March 2019 and ends on 2nd April 2019.
Telangana SSC Exam Timetable 2019
DAY & DATE
TIME
SUBJECT (S)
Saturday
March 16, 2019
9.30 am to 12.15 pm
First Language Paper-I (Group A)
9.30 am to 12.45 pm
First Language Paper-I (Composite Course)
Monday
March 18, 2019
9.30 am to 12.15 pm
First Language Paper-II (Group A)
9.30 am to 12.45 pm
First Language Paper-I (Composite Course)
Tuesday
March 19, 2019
9.30 am to 12.15 pm
Second Language
Wednesday
March 20, 2019
9.30 am to 12.45 pm
English Paper-I
Friday
March 22, 2019
9.30 am to 12.15 pm
English Paper-II
Saturday
March 23, 2019
9.30 am to 12.15 pm
Mathematics Paper-I
Monday
March 25, 2019
9.30 am to 12.15 pm
Mathematics Paper-II
Tuesday
March 26, 2019
9.30 am to 12.15 pm
General Science Paper-I
Wednesday
March 27, 2019
9.30 am to 12.15 pm
General Science Paper-II
Thursday
March 28, 2019
9.30 am to 12.15 pm
Social Studies Paper-I
Friday
March 29, 2019
9.30 am to 12.15 pm
Social Studies Paper-II
Saturday
March 30, 2019
9.30 am to 12.45 pm
OSSC Main Language Paper-I(Sanskrit, Arabic, Persian)
Monday
April 01, 2019
9.30 am to 12.45 pm
OSSC Main Language Paper-II(Sanskrit, Arabic, Persian)
Tuesday
April 2, 2019
9.30 am to 11.30 am
SSC Vocational Course (Theory)