Maharashtra Board SSC timetable 2019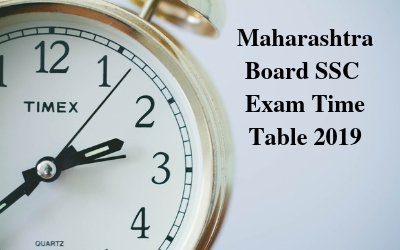 Maharashtra, the third-largest state in India is known for its fine quality education and plethora of educational institutes. One of the most important exams in the educational term of a student in Maharashtra is the SSC Exam. Conducted at class 10 on state level, this is one of the most sought-after exams in the state.
Maharashtra SSC exam schedule is released by the office of The Maharashtra State Board of Secondary and Higher Secondary Education. The official website of the Maharashtra education publishes the updated MH SSC board time table 2019 for students around October. The exam is held typically between February and March.
To help the students, examresults.net brings to you the Maharashtra 10th exam time table.
Importance of knowing the Maharashtra SSC time table:
The last few months before the exam are crucial for students to plan their methodology of studying. Knowing the Maharashtra SSC timetable 2019 in advance will facilitate the students, teachers, parents as well as educators to plan their last-minute studies.
This Maharashtra SSC exam time table 2019 can also help in conducting mock-tests.
SSC Maharashtra Board time table 2019
Start Date of SSC exam 2019: 1st March 2019
End Date of SSC exam 2019: 22nd March 2019
To view the detailed SSC Time Table Maharashtra board 2019,
click here
.
Before the exam, make sure you cross-check the latest version of the timetable for SSC exam.
---
---