Tripura Madhyamik Class 10th Time Table 2017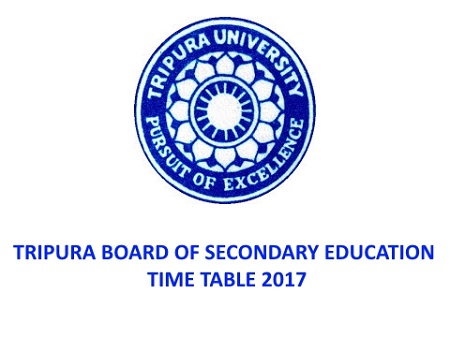 The Tripura Board of Secondary Education (TBSE) has released the
Class 10 board exams time table 2017
. The Madhyamik Pariksha (Secondary Examination) 2017, will start from Friday, 3 March, 2017 and end on Thursday, 23 March 2017. All
10 Class exams
will start at 12 pm and end at 3.15 pm. The TBSE has also released the
time table for the Madrasa Madhyamik Pariksha (Secondary Examination)
for the academic year 2016-2017. The exams will start from Friday, 3 March, 2017 and end on Tuesday, 4 April, 2017. Exams will begin at 12 pm and end at 3.15 pm. Students are requested to kindly read every detail of the time table carefully.
The Tripura Board TBSE Madhyamik 10th Result 2017 will also be announced on this website.
Click here
to check your result.
---
---
TRIPURA MADHYAMIK PARIKSHA Class 10 Timetable (SECONDARY EXAMINATION), 2017
DAY & DATE
TIME
SUBJECT (S)
Friday
March 03, 2017
12 noon to 3.15 pm
First language :
Bengali
English
Hindi
Kokborok
Mizo
Tuesday
March 07, 2017
12 noon to 3.15 pm
Second language:
English
Bengali
Saturday
March 11, 2017
12 noon to 3.15 pm
History
Tuesday
March 14, 2017
12 noon to 3.15 pm
Geography
Friday
March 17, 2017
12 noon to 3.15 pm
Physical Science
Monday
March 20, 2017
12 noon to 3.15 pm
Life Science
Thursday
March 23, 2017
12 noon to 3.15 pm
Mathematics
---
TRIPURA MADRASA MADHYAMIK PARIKSHA Class 10 (SECONDARY EXAMINATION), 2017
DAY & DATE
TIME
SUBJECT (S)
Friday
March 03, 2017
12 noon to 3.15 pm
First Language:
Bengali
Tuesday
March 07, 2017
12 noon to 3.15 pm
Second Language:
English
Saturday
March 11, 2017
12 noon to 3.15 pm
Mathematics
Tuesday
March 14, 2017
12 noon to 3.15 pm
Physical Science
Friday
March 17, 2017
12 noon to 3.15 pm
Life Science
Monday
March 20, 2017
12 noon to 3.15 pm
History
Thursday
March 23, 2017
12 noon to 3.15 pm
Geography
Monday
March 27, 2017
12 noon to 3.15 pm
Arabic
Thursday
March 30, 2017
12 noon to 3.15 pm
Tafsir
Tuesday
April 04, 2017
12 noon to 3.15 pm
Hadith