Tripura Higher Secondary (HS +2 Stage) Time Table 2017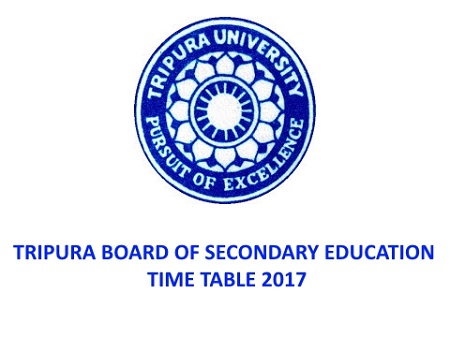 The Tripura Board of Secondary Education (TBSE) has announced the dates for the higher secondary examinations for the academic year 2016-2017. The
TBSE 12th exam time table
is applicable for both the old and the new syllabus. The exam starts from 2, March, 2017 and ends on 8 April, 2017. The TBSE has also released the
time table for Madrasa Fazil (H.S. +2 Stage) Theology Examination
for the year 2017. The exams will start from Thursday, 2 March, 2017 and end on Saturday, 1 April 2017. All exams will commence at 12.00pm and end at 03.15pm. Also announced was the
timetable for Madrasa Fazil (H.S. +2 Stage) Arts examination, 2017
, which covers both the old and the new syllabus. The exams will start from Thursday, 2 March 2017 and end on Saturday, 1 April 2017. All examinations will commence at 12 pm and end at 3.15pm. Students are requested to kindly read every detail of the question paper carefully.
The Tripura Board TBSE Higher Secondary 12th Result 2017 will also be announced on this website.
Click here
to check your result.
---
---
TRIPURA HIGHER SECONDARY (+2 STAGE) EXAMINATION 2017, TIMETABLE
DAY & DATE
TIME
SUBJECT (S)
Thursday
March 03, 2017
12 noon to 3.15 pm
English
Monday
March 06, 2017
12 noon to 3.15 pm
Bengali
Hindi
Mizo
Kokborok
Thursday
March 09, 2017
12 noon to 3.15 pm
Chemistry
Political Science
Sociology
Wednesday
March 15, 2017
12 noon to 3.15 pm
Mathematics
Philosophy
Saturday
March 18, 2017
12 noon to 3.15 pm
Physics
Education
Business Organisation and Management
Business Studies
Tuesday
March 21, 2017
12 noon to 3.15 pm
Biological Science / Biology
Accountancy
History
Friday
March 24, 2017
12 noon to 3.15 pm
Economic Geography
Geography
Monday
March 27, 2017
12 noon to 3.15 pm
Sanskrit
Statistics
Thursday
March 30, 2017
12 noon to 3.15 pm
Business Economics including Business Mathemematics
Economics
Saturday
April 01, 2017
12 noon to 3.15 pm
Music
Arabic (Elective) Old Syllabus
Arabic (Elective) New Syllabus
Wednesday
April 05, 2017
12 noon to 3.15 pm
Psychology
Saturday
April 08, 2017
12 noon to 3.15 pm
Home Management & Home Nursing Nutrition
1. The duration of Music Examination will be 2.15 hours from 12 Noon to 2:15pm
2. The practical examinations for Physics, Chemistry, Biology, Geography, Hotel Management & Home Nursing, Psychology and Nutrition will be held between 2 January 2017 to 30 January 2017
---
TRIPURA MADRASA FAZIL(H.S.+2 STAGE) THEOLOGY EXAMINATION 2017, TIMETABLE
DAY & DATE
TIME
SUBJECT (S)
Thursday
March 02, 2017
12 noon to 3.15 pm
English
Monday
March 06, 2017
12 noon to 3.15 pm
Bengali
Wednesday
March 15, 2017
12 noon to 3.15 pm
Theology
Saturday
March 18, 2017
12 noon to 3.15 pm
Islamic Studies
Tuesday
March 21, 2017
12 noon to 3.15 pm
Islamic History
Saturday
April 01, 2017
12 noon to 3.15 pm
Arabic(Group C) Old Syllabus
Arabic(Group C) New Syllabus
---
TRIPURA MADRASA FAZIL(H.S.+2 STAGE) ARTS EXAMINATION 2017 TIMETABLE (BOTH UNDER OLD AND NEW SYLLABUS)
DAY & DATE
TIME
SUBJECT (S)
Thursday
March 02, 2017
12 noon to 3.15 pm
English
Monday
March 06, 2017
12 noon to 3.15 pm
Bengali
Thursday
March 09, 2017
12 noon to 3.15 pm
Political Science
Wednesday
March 15, 2017
12 noon to 3.15 pm
Philosophy
Saturday
March 18, 2017
12 noon to 3.15 pm
Education
Tuesday
March 21, 2017
12 noon to 3.15 pm
History
Thursday
March 30, 2017
12 noon to 3.15 pm
Economics
Saturday
April 01, 2017
12 noon to 3.15 pm
Arabic(Group C) Old Syllabus
Arabic(Group C) New Syllabus