Maharashtra SSC Result 2018, Maharashtra Class 10th Result 2018, MSBSHSE 10th Maharashtra Board Result 2018
Register For Maharashtra
SSC Result 2018
Get Your
» Board Results
» Result Dates
» Examination
Notifications
» Latest News

REGISTER NOW!
Register For Maharashtra
SSC Result 2018
REGISTER NOW!
---
Maharashtra Board Results 2018 - Maharashtra SSC Result - Date, Information & More..
: The
SSC Maharashtra Board Result
will be declared on
8th June 2018
by MSBSHSE Maharashtra board. The
Maharashtra Board SSC results 2018
will be available on the websites,
www.maharashtraeducation.com
and
www.examresults.net/maharashtra
. Last year, in 2017, MSBSHSE processed the results of a total of
17,64,536
students out of which
15,05,906
students were declared "passed". This year a total of 17,51,353 students registered for the exams and are expecting their results in June 2018. Students can also download our
Android app
, ExamResults, to check their result and stay updated about all exams- and results-related information.
Last year, the
Maharashtra SSC Results
were announced on 13th June and the Maharashtra Board i.e.
MSBSHSE
officially announced the
Maharashtra board SSC result 2017
on this website i.e.
www.MaharashtraEducation.com
. However, this year's Maharashtra SSC exam result date 2018 is
8th June 2018
.
The Maharashtra Class 10th Results or Maharashtra board 10 Result are released by MSBSHSE for over 17 lakh students and it decides in which stream a student will pursue his / her Class 12 (HSC) education. The 10th Maharashtra board result 2018 will be announced this year for nearly the same number of students as last year, i.e. 17 lakh students across Maharashtra and the Maharashtra board 10th results will be officially announced on this website.
According to numbers announced by the Maharashtra board about the 10th Maharashtra Board Exams 2018, 17,51,353 students registered to appear for the SSC exams which were conducted at 4657 centres across the state. Out of the total number of students registered, 16.37 lakh students were new candidates, 67 thousand students repeat students, and 46 thousand students were private or class improvement scheme students. The number of male students was 9,73,134 and the number of female students was 7,78,219. All these students will be awaiting their Maharashtra SSC Result 2018 on 8th June 2018.
This year for the first time, students were offered the choice of 10 skill-based subjects under the National Mission for Secondary Education. They could opt for these subjects instead of a second language or social science. 19,184 students opted for this scheme.
This year the board also introduced barcodes on answer sheets and supplements. This was also the first year that the instructions on the hall tickets were printed in both, English and Marathi, which also included information on the punishment for students who are caught copying.
The Maharashtra SSC Result 2018 will be announced on 8th June 2018.
MSBSHSE SSC Result 2018 - Important Dates, Facts & Figures
Name Of Examination Authority: Maharashtra State Board of Secondary & Higher Secondary Education
Name Of Exam: Maharashtra SSC Board Exams 2018
MSBSHSE 10th Exam Dates:
1st March to 24th March 2018
MSBSHSE SSC Result 2018:
8th June, 2018 at 1 PM
Total Number Of Students: 17,51,353
Total Number Of Exam Centres: 4,657
Division-wise SSC students who appeared for Maharashtra SSC 2017
Here is the number of students who appeared for the Maharashtra SSC exam 2017 across each of its 9 divisions last year. This number will be updated once the Maharashtra SSC Class 10 2018 exams take place.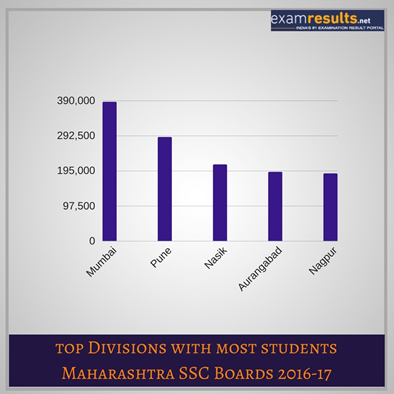 | | |
| --- | --- |
| Division | No. of Students who Appeared for the Maharashtra SSC exam 2017 |
| Pune | 2,88,693 |
| Nagpur | 1,87,608 |
| Aurangabad | 1,91,827 |
| Mumbai | 3,86,406 |
| Kolhapur | 1,51,309 |
| Amravati | 1,87,566 |
| Nasik | 2,12,612 |
| Latur | 1,17,561 |
| Konkan | 40,954 |
| Total | 17,64,536 |
Maharashtra Board SSC Result 2018 Date
As per the official Maharashtra board SSC timetable 2018, announced last year, the Maharashtra class 10th exams started on time beginning on 1 March and ending on 24 March, 2018 for more than approximately 17 lakh students. The exact Maharashtra SSC result date 2018 will be updated on this page, soon. The Maharashtra Board SSC Result 2018 date has not been fixed yet but will be made available in May or June, 2018 according to some reports. All Maharashtra SSC students can keep visiting this page to get the exact date for the announcement of Maharashtra SSC Result 2018 by the MSBSHSE since www.examresults.net is an official online partner website with the Maharashtra board. Students can also download our official Android app, ExamResults, to stay abreast of all the results- and exam-related updates.
This year the Maharashtra government has revised its rules regarding the awarding of additional marks to students who are excellent in arts and culture. Compared to the 25 marks given earlier, the students can now earn 15 marks. The state government has also revised the 2 percent reservation during Junior college admission for students who availed these extra marks.
Which Website to Check for Maharashtra SSC Result 2018
Although the Maharashtra SSC Board Result 2018 is declared every year on the MSBSHSE board's official website (www.mahresult.nic.in), the trend for the past few years on the D-Day has been that the website crashes when a huge amount of traffic lands there at the same time! In 2017, there were 17 lakh+ students who visited the official website to check their MSBSHSE result and in 2016 more than 16 lakh students landed on the website to get their Maharashtra SSC Result. This year, too, with the huge number of students who sat for their SSC boards and are waiting for their Maharashtra SSC Result 2018, there is quite a good chance that the website might be unavailable for quite some time. This is where official partner websites like www.maharashtraeducation.com and www.examresults.net/maharashtra are useful. On the result day, SSC students can directly go to www.maharashtraeducation.com to check their Maharashtra State SSC Results without any technical problems or delay. Students can also download the ExamResults application check their results.
17.66 lakh+ Students Accessed Maharashtra SSC Result 2017
Last year, in 2017, 17,66, 098 Maharashtra students registered for the SSC 2017 exams, out of which 16,89,239 appeared for the exams for the first time while the rest were repeat candidates. There were 4,728 exam centres in 2017 for the 9,89,908 girls and 7,76,190 boys who wrote their SSC exams 2017 and awaited their Maharashtra SSC Result 2017. In 2018, we can only expect the numbers to be higher and more students to access the website. Check www.maharashtraeducation.com for your Maharashtra SSC Result 2018.
Previous Years' Maharashtra SSC Result Details
Last year, the MSBSHSE SSC exams were held in the month of March 2017, for which 17,66, 098 students (fresh + repeater) had registered and a total of 16,89,239 students (including repeaters) actually appeared from across Maharashtra. Out of these 7,76,190 were boys and 9,89,908 were girls who appeared at 4,728 exam centres spread across the state. Last year, the SSC Maharashtra result was declared on 13 June, 2017 and was available on websites like www.maharashtraeducation.com, www.examresults.net/maharashtra and www.mahresult.nic.in from 1 PM onwards.

The Maharashtra State Board of Secondary and Higher Secondary Education (MSBSHE) conducts the SSC exam for Class 10th every year, through its nine Divisional Boards, which are primarily located at Pune, Mumbai, Nasik, Aurangabad, Kolhapur,Nagpur, Latur, Amravati and Ratnagiri.

The students are requested to keep visiting this website for all details on the Maharashtra Board Results 2018. We wish the best for all students across Maharashtra for their Maharashtra State Board 10th Result.
Previous years' Maharashtra SSC Results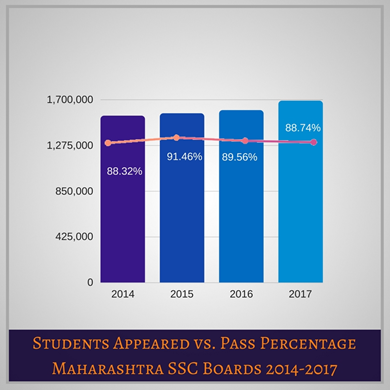 | | | | | | |
| --- | --- | --- | --- | --- | --- |
| Year | Overall Pass % | Boys % | Girls % | No. of students who registered | No. of students who have appeared |
| 2017 | 88.74 % | 86.51% | 91.46% | 17,66, 098 | 16,89,239 |
| 2016 | 89.56 | 87.98 | 91.41 | 16,07,411 | 16,01,406 |
| 2015 | 91.46 | 90.18 | 92.94 | 15,77,303 | 15,72,268 |
| 2014 | 88.32 | 86.47 | 90.55 | 15,55,984 | 15,49,784 |
Toppr - Study Partner for ExamResults students!

Looking to get straight As on your report card? Step up the academic ladder with Toppr, the study partner of Examresults.net. With
Toppr
, you can find and practice more than 7 million questions, chat with experts, access video lectures and get personalized feedback reports on your study progress. Join the
network
of more than 3 million happy students today!
How to check the Maharashtra Class 10 results 2018 online
To check the Maharashtra SSC 2018, students can visit the examresults website. The basic steps to check Mah Board Class X Result 2018 online are:
Get your results online on www.maharashtraeducation.com
Alternatively, log onto examresults.net website.
Type the desired state name, for example, http://www.examresults.net/maharashtra/.
Look for the link which says "SSC Results Click Here"
Click on the link and fill up all the details to get your Maharashtra SSC result 2018.
Students can also check the Maharashtra HSC results 2018 here. and download our Android app via Google Play store.