Time Table of II PUC Annual Examination 2017 March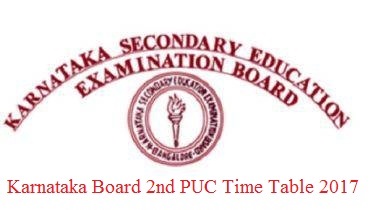 Karnataka's Department of Pre University Education (PUE) has released the
2nd PUC exam Time Table 2017
for the students of the academic year 2016-2017. The
Karnataka PUC board exams
have started from Friday,
9 March 2017
and will end on
Monday, 27 March 2017
. The Karnataka PUC exam for class 12 will be conducted in a single session. The question papers will be distributed at 10 AM and the exam will begin from 10:15 AM and will continue up to 1:30 PM as per the
PUC Time Table 2017
. The additional 15 minutes are to carefully read the question paper before every examination. Students are requested to kindly read every detail of the
Karnataka PUC II Board Exam Time Table
carefully.
The
Karntaka PUC II Board Exam Result 2017
will also be announced on this website.
Click here to check your result
.
---
---
PUC II Board Exam Time Table 2017
DAY & DATE
FORENOON SESSION
10.15 am to 1.30 pm
SUB CODE
Thursday
March 09, 2017
Biology
36
History
21
Friday
March 10, 2017
Computer Science
41
Electronics
40
Saturday
March 11, 2017
Logic
23
Education
52
Basic Maths
75
Monday
March 13, 2017
Sociology
28
Accountancy
30
Tuesday
March 14, 2017
Mathematics
35
Wednesday
March 15, 2017
Karnataka Music
25
Hindustani Music
26
Thursday
March 16, 2017
Economics
22
Geology
37
Friday
March 17, 2017
Physics
33
Saturday
March 18, 2017
Psychology
32
Monday
March 20, 2017
Business Studies
34
Chemistry
27
Optional Kannada
16
Tuesday
March 21, 2017
Political Science
29
Wednesday
March 22, 2017
Hindi
03
Telugu
05
Thursday
March 23, 2017
Kannada
01
Tamil
04
Malayalam
06
Arabic
11
Friday
March 24, 2017
Sanskrit
09
Marathi
07
Urdu
08
French
12
Saturday
March 25, 2017
Statistics
31
Geography
24
Home Science
67
Monday
March 27, 2017
English
2