Time Table of Jharkhand Board Class 10 Examination, 2018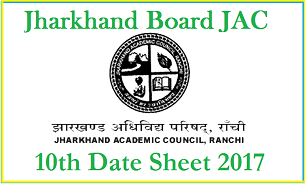 The Jharkhand 10th Board exams are finally over and students can heave a sigh of relief until the results are announced in the month of May. According to the JAC 10th Time Table 2018, the exams started on Thursday, 8 March, 2018 with Music subject and ended on Wednesday, 21 March, 2018 with Sanskrit. The JAC 10th Board exams 2018 were held back-to-back with hardly any study leaves in between. Students were given the question papers at 9.45 am were asked to answer the papers from 10 am till 1 pm. Around 4,31,734 candidates appeared for the JAC class 10 exams in 954 exam centres this year.

The JAC class 10th exam Results 2018 will also be announced on this website. Click here to check your result.
---
---
Jharkhand 10th Board Exam Time Table 2018
DAY & DATE
TIME
SUBJECTS
Thursday
March 8, 2018
9.45 am to 1 pm
Music
Friday
March 9, 2018
9.45 am to 1 pm
Hindi (Course A & Course B)
Saturday
March 10, 2018
9.45 am to 1 pm
Commerce/Home Science
9.45 am to 12.30 pm
IIT/ITS/HEL/MAE/SEC/RET/BAW/TAT
Monday
March 12, 2018
9.45 am to 1 pm
Mathematics
Tuesday
March 13, 2018
9.45 am to 1 pm
Urdu
Bengali
Oriya
Wednesday
March 14, 2018
9.45 am to 1 pm
Science
Thursday
March 15, 2018
9.45 am to 1 pm
Arabic
Persian
Ho
Mundari
Santhali
Oraon
Friday
March 16, 2018
9.45 am to 1 pm
English
Kharia
Khortha
Saturday
March 17, 2018
9.45 am to 1 pm
Kurmali
Nagpuri
Pench Pargania
Monday
March 19, 2018
9.45 am to 1 pm
Social Science
Wednesday
March 21, 2018
9.45 am to 1 pm
Sanskrit