CGBSE 12th Time Table 2017 - Chhattisgarsh Higher Secondary (Class 12)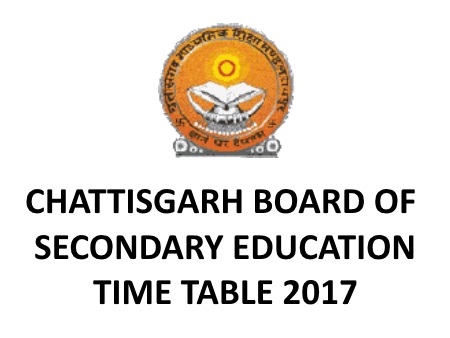 The
CG Board 12th timetable 2017
has just been released by the Chhattisgarh Board of Secondary Education (CGBSE). According to the
CGBSE 12th 2017 timetable,
the exams are scheduled to begin from 14 February, 2017, and end on 9 March, 2017. Further, as per the
CG 12th timetable
, the exams will commence at 9:15 am and will end at 12:15 pm. The students will be provided with the reading time of 15 minutes in each paper for
CGBSE 12th Time table 2017
. Students are advised to note the particulars of the exam dates and time carefully.
The Chhattisgarh Board CGBSE 12th Result 2017 will also be announced on this website.
Click here
to check your result.
---
---
CHHATTISGARH (10+2) EXAMINATIONS, 2017
DAY & DATE
TIME
SUBJECT (S)
Tuesday
February 14, 2017
9 am to 12.15 pm
First Language
Hindi (001)
English (002)
Marathi (004)
Urdu (005)
Thursday
February 16, 2017
9 am to 12.15 pm
Second Language
Hindi (051)
English (052)
Sanskrit (053)
Marathi (054)
Urdu (055)
Punjabi (056)
Sindhi (057)
Bengali (058)
Gujarati (059)
Telugu (060)
Tamil (061)
Malayalam (062)
Kannada (067)
Udiya (068)
Saturday
February 18, 2017
9 am to 12.15 pm
Environmental Science (098)
Tuesday
February 21, 2017
9.15 am to 12.15 pm
Biology (231 & 831)
Book Keeping & Accountancy (320)
Elements of animal husbandry & Poultry farming (430)
History of Indian art (530)
Elements of Science (631)
Thursday
February 23, 2017
9.15 am to 12.15 pm
Indian Music (161)
Drawing and Designing(162)
Dancing (163)
Steno Typing (164)
Home Science Anatomy Physiology (168)
Social Science(166)
Psychology(167)
Monday
February 27, 2017
9 am to 12.15 pm
History (110)
Physics (210)
Elements of commerce & management (310)
Elements of size & Math for agriculture (410)
Drawing & Painting (510)
Food & nutrition (610)
Wednesday
March 01, 2017
9.15 am to 12.15 pm
Geography (120)
Friday
March 03, 2017
9.15 am to 12.15 pm
Mathematics (150 & 850)
Saturday
March 04, 2017
9.15 am to 12.15 pm
Computer Application (151)
Monday
March 06, 2017
9.15 am to 12.15 pm
Commercial Mathematics (169 & 869)
Wednesday
March 08, 2017
9.15 am to 12.15 pm
Political Science (130)
Chemistry (220)
Applied Economics & Commercial Geography(331)
Industrial Organisation (332)
Crop Production & Horticulture (420)
Still life & Designing (520)
Physiology & First Aid (620)
Thursday
March 09, 2017
9.15 am to 12.15 pm
Sanskrit (Humanities) (171)
Sanskrit (First language) (003)